Over the past few years, we have seen multiple additions to the many lands of the Magic Kingdom. Fantasyland, of course. received the biggest expansion in park history adding Belle's Village, Under the Sea with Ariel, Princess Fairy tale Hall, The Tangled themed bathroom and power station, and soon to open, Seven Dwarfs Mine Train. You can also include the Storybook Circus in that addition. Frontierland has gotten a small make over with Big Thunder Mountain's ride queue. Adventureland just put Jungle Cruise into refurb, and had the addition to of the Pirate's Adventure: Treasures of the Seven Seas interactive game. Sorcerer's of the Kingdom interactive game was added to Main Street, Liberty Square, Adventureland, Frontierland, and Fantasyland.
Did you notice anything missing in that line up? nothing came close to Tomorrowland. In my humble opinion, this make over is long overdue. In Fact the last major attraction to open in the area was Monster's Inc Laughfloor back in 2007, which did have very minor changes this year to incorporate the Monster University movie that opened earlier this year. After the laughfloor, you have Buzz Lightyear's Space Ranger Spin that opened in 2006 and Stitch's Great Escape (which replaced ExtraTERRORestrial: Alien Encounter) that opened in 2004.
I give you these days, to show you that no real love has been shown to this side of the park in 6 years. Yes, it is getting subtle changes, for instance Space Mountain has been on and off with smaller refubs through out the end of summer, for safety work. Six years, is not that long you say, but everything that Disney has added to the the park, especially the interactive games, don't bring you toward this side of the park, and when you walk into this side of the park, don't you feel like its a little out dated? Doesn't that defeat the purpose of TOMORROWland?
Let's look at the changes that could happen to see this land be a real Tomorrowland. I will start small and obvious: Carousel of Progress is a great attraction. it shows the next generations how the house has changed so much over the years. It even shows what we thought the future was going to be like in the 90s! Virtual Reality never really took off, so why not take that out, and focus on the fact that the house can now be run by cell phones or tablets. and throw in a curved OLED TV, show off a kitchen of

tomorrow

, with a fridge that updates its contents, and displays whats needed. They could talk about Wireless charging of devices, and the car that drives itself. I know most of that is not to future, but its better than the current scene.
Disney has a great couple of movies to take add the the next attraction, Tomorrowland Speedway. No not Marvel or Star Wars, but Tron! could you imagine walking around from the Tea Cups and seeing the blue glow of the grid coming from the track itself. The cars would also have that nice glow of different colors, and they could throw in a couple of light cycles for single riders. Yes, Epcot does have "Tron Track" but this could be the official tron ride. Adding to the future, this could be electric car system, so you don't have so much noise coming from that area.
A quick break from the rides, and lets go to a little food. Cosmic Rays is one of the 2 main sit down quick services in Tomorrowland. while I do believe that Tomorrowland Terrace needs a new coat of paint, but because of it being a mainly out door there is not much you can do besides to update the paint jobs, and refurnish it. Cosmic Ray's on the other hand, I believe, can do for a major over haul. you are suppose to get the feel that you are in a lounge, but I never get that feeling. Disney can start by putting some dark curtains up in the main eating area, and focus the lighting more on the stage with an updated Sonny Eclipse.
The Peoplemover is a great, relaxing ride, however it is lacking something. Rumor for Disneyland is that they are going to put a speeder bike ride from Star Wars on the former track. I do like that we have such a relaxing ride in Walt Disney World. Making the cars a little more interactive with what is going on and being said in the narration would help transition the between the different rides and displays that you see throughout the attraction.
I remember going on Alien Encounter in high school, and was scared out of my mind! when i heard that they had replaced it with Stitch, I could not have cared less. Finally going on the ride confirmed that it was a joke. I would love to see them bring back Alien, but i understand, it might be a little to tense for kids. The theater is great in there. and the idea is sound. I am thinking that they do a "Rocketman" meets alien encounter. You are on the way to Mars, when the power to the ship goes out and you are boarded by an alien race, that you never see. you keep most the effects. the only thing that changes is the tube in the middle that holds Stitch, and that is now a hologram of the commanding officer of your mission.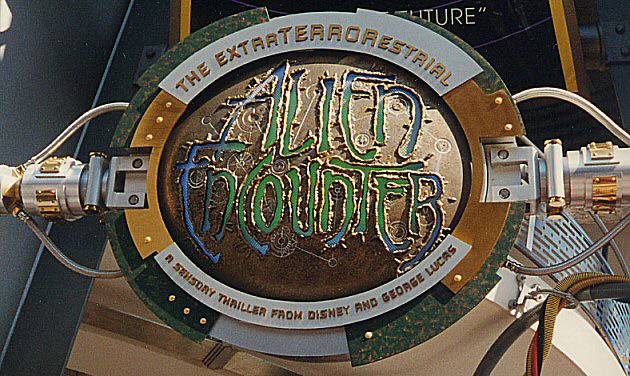 The Monster's Inc. Laughfloor, was a great idea for an interactive comic show. It's also a nice place to sit and cool down. We don't have a 3D ride in Tomorrowland though. If they were to do something to integrate the Pixar movies (Philharmagic style) Yes, its a smaller theater, so make it a more crowd involved show, with different outcomes based on what the audience does or doesn't do.
That brings Buzz Lightyear Space Ranger Spin to the bring up the back. While the ride is fun and great, don't we already have an epic Toy Story Shoot'em game in Hollywood Studios? I like the shooting games, so we can keep that. Let's even keep the Pixar theme. Maybe in stead of Buzz, we are aborad the Axium in Wall-E, and we have to disable the rogue robots that have escaped from the robo-med bay. We have been equipped with a focused EMS gun, that will allow us to disable the robots. Change the cars to the chairs that they have in the movie, and the gun is attached to that.
Those are my ideas, what do you think? what would you change and how would you change it? Let us know!